How to get here – by car, bus or train
You will find Opera på Skäret in the heart of the Bergslagen region, midway between Stockholm and Oslo and a convenient drive from many towns and cities in central Sweden (see map).
Package tours by bus, with or without an overnight stay, are arranged by many travel agencies around Sweden.
The Opera Train from Stockholm offers a unique all-day experience including travel, food and opera.
Package trips by bus
Many travel agencies in central Sweden arrange travel packages for  bus tours to Opera på Skäret.
Some of these are multi-day trips including an overnight stay and additional attractions, although most are single-day trips with Opera på Skäret as the principal destination.
A link will connect you to a list of departure locations and travel dates, with direct links to the relevant organizers' websites, once they are announced.
The Opera Train from Stockholm to Skäret
For many years, vintage train tours have departed from Stockholm Central Station destined directly for Opera på Skäret, the world's only opera house with its own train platform (as far as we know).
This offers a fascinating cultural and rural experience in the form of a train journey through bucolic, summertime Sweden, enjoyable meals in the train's classic restaurant cars, topped off by opera of the highest standard.
The opera house in the old sawmill environment on the shore of Lake Ljusnaren completes the experience.
Accomodation- Where to stay
• If you are looking for accommodation for your Opera på Skäret visit, we have hotel-partners in several different locations, so if you are travelling by car, you can find accommodation nearby.
• You can also reach our hotel- partners by train or our transfer bus.
• Many of our hotel-partners have various special offers for Opera på Skäret's guests. They will all be listed here in conjunction with the ticket release for next summer.
Enhance your visit with good food and drink
In connection with visits on a Saturday or Sunday, lunch can be included prior to the performance, or a three-course dinner after the performance. On weekdays, a two-course dinner is served before the performance. Specially composed wine packages are provided with the menus.
All meals are to be ordered in advance via our website, no later than 120 hours (five days) before arrival. Drinks, lighter cold dishes and snacks are served during the interval. To assure fast service, it is also advantageous to order these refreshments in advance via the website. A limited range is also available to order at the venue.
A link will connect you to a our menus, once they are ready.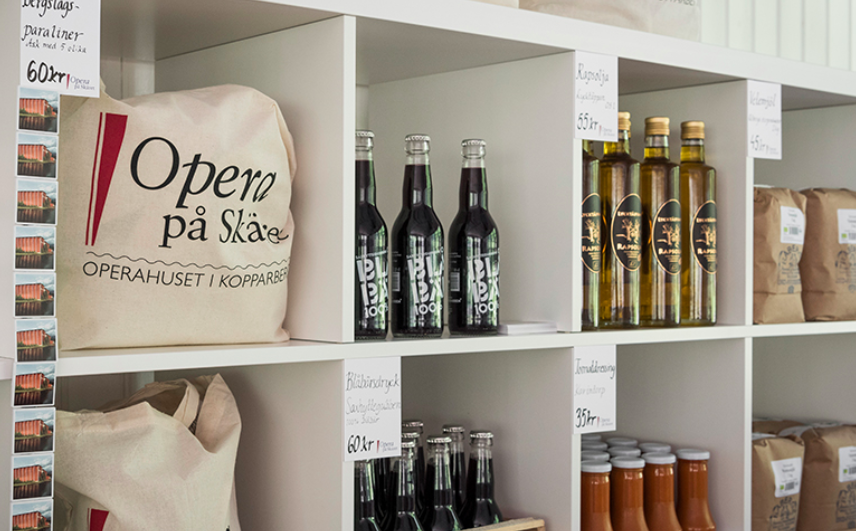 Find handicraft and souvenir bargains
The Opera på Skäret Shop offers a varied range of handicrafts and delicacies from the northern Bergslagen region, including souvenirs, posters, literature and music – and much more.
The Shop is located immediately adjacent to the interval refreshments area, alongside the entrance to the opera house.
It is open before and after performances, as well as during intervals.